100% made in the USA!
Available Now!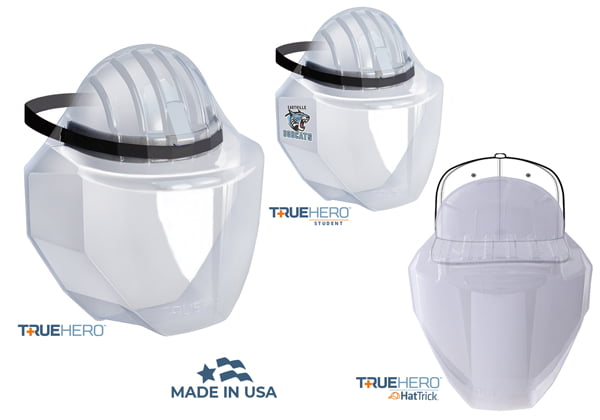 Fulfills ANSI/ISEA Z87.1-2015 for splash protection | PATENT PENDING
Buy TrueHero NOW
Buy TrueHero Student NOW
Buy TrueHero HatTrick NOW
TrueHero Shields
Clearon™ optically clear FDA material
SurroundSight™ Full-range viewability
DoubleCover™ Flanged perimeter maximizes protection from periphery
Hook-and-Loop strap allows for secure fit, infinite adjustability; set it and forget it
Multi-Port Exhaust channels release heat and moisture and help to prevent fogging
Extremely Lightweight for comfortable, all-day use
Easy to Grasp from behind to satisfy handling protocol
Customizable Fit, if you want to modify shield, simply trim with scissors
TrueHero Shields Are Reusable
The TrueHero can be cleaned and disinfected to allow for multiple uses. When cleaning and/or disinfecting, clean the inside first and then clean the outside.
Dish detergent and a non-abrasive cloth or clean sponge can be used to clean the TrueHero. After cleaning, let the TrueHero air dry or use a non-abrasive wipe to dry.
To disinfect, the following can be used:
Alcohol-based germicidal or disinfectant wipes, then drying with a non-abrasive wipe.
Isopropyl Alcohol sprayed onto the shield, then drying with a non-abrasive wipe.
Please avoid using disinfectant aerosol spray, as this could leave a cloudy residue on the shield and impair view. Also avoid any cleaners with abrasive additives.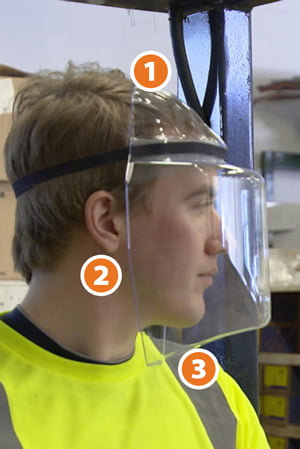 3 key elements to a well designed face shield
1. Extends continuously up and over the forehead
2. Extends back to the ears
3. Extends under the chin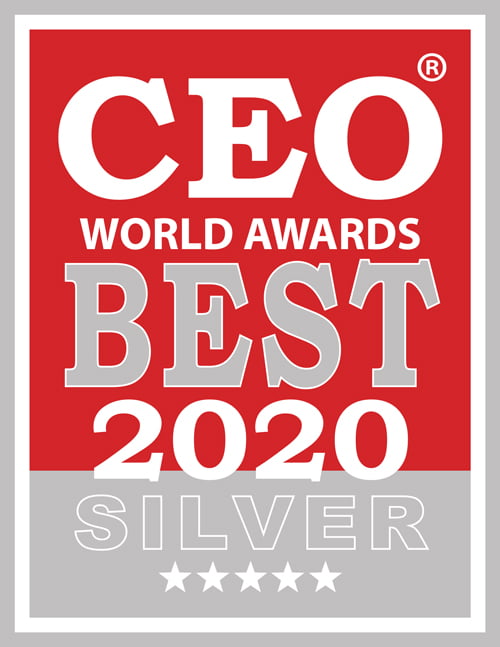 TrueHero wins
2020 CEO World Silver Award for products to combat and reduce impact of COVID-19!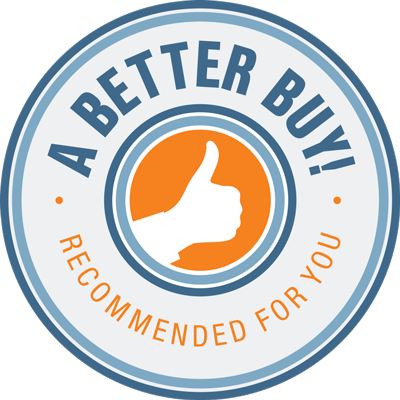 A Better Buy!
Compared to disposable shields and masks, TrueHero is a better buy! It's easy to clean and totally reusable!
The Power of Well-Designed Face Shields
Covers Your Mouth, Nose and Eyes
Unlike ordinary masks, the TrueHero Extreme Coverage Face Shield covers all critical areas where the coronavirus can enter your body. When you wear a mask, you protect other people from you, but you are not fully protecting yourself from others as your eyes are still exposed.
Keeps You From Touching Your Face
The extreme coverage provided by a TrueHero face shield, vs masks or other shields, puts a physical barrier between your hands and face. Most of the time you will forget you are wearing a TrueHero, so when you inadvertently try to touch your face, the shield is a tactile reminder to wash your hands before exposing them to your mouth, nose or eyes.
Facilitates Communication
Human interaction/communication is facilitated through facial expressions and by watching lip movement. Face shields allow these visual cues to be visible while also better protecting you from viral exposure.
Easier To Breathe
Unlike masks, TrueHero Extreme Coverage Face Shields are roomy and do not constrain or interfere with normal breathing. Lengthy wearing of masks can be unhealthy as users are constantly re-breathing their own carbon dioxide, which can significantly lower blood oxygen levels.
No Fogging
As we all learned in school, hot air rises! The patented design of the TrueHero Extreme Coverage Face Shield allows hot air to exhaust over the top of your head. As a result, fogging will not occur in your line of sight. TrueHero face shields can also be comfortably worn with glasses without causing fogging.
Easily Sanitized
TrueHero Extreme Coverage Face Shields can be easily cleaned daily and throughout the day using readily available household cleaners. Even soap and hot water will clean and sanitize the shield, and it can be dried with a soft cloth allowing you to wear it daily for months. Masks must be machine washed.
Far More Cost Effective, Environmentally Friendly
Unlike medical masks, which should be replaced a minimum of once per day, a TrueHero face shield can be worn for months with proper care. This makes the total cost of ownership much lower than having to replace a medical mask on a daily basis. Failing to replace or sanitize a mask daily not only lowers the effectiveness but also increases the user's chance of respiratory infection. A reusable shield is also more environmentally friendly than disposable masks.
More Comfortable to Wear; Won't Cause Skin Irritation
The comfort difference between a mask and a TrueHero face shield cannot be overstated. Masks are constricting and require frequent readjustment, which means you're constantly touching your face. And they commonly cause skin irritation. A TrueHero face shield is spacious and will not hold irritation-causing moisture against your skin.
Fully Adjustable And Customizable
A TrueHero face shield is attached using a narrow hook-and-loop strap which allows for total size adjustability which you can set and forget. And, with a pair of household scissors you can easily trim a TrueHero face shield if needed
Can Be Personalized
(Which Helps Encourage Use)
Kids, especially, are more apt to wear protection if they can personalize it. A TrueHero face shield can be easily personalized with and available stickers!
Extreme Coverage Face Shield
What medical professionals and others are saying about True Hero
We have been playing pick-up ball hockey for decades, virtually without interruption. We play weekly (year-round) for a couple of hours at a time, picking new teams every week. It's tremendous exercise but, as important, it's great fun, highly competitive, and an opportunity to maintain friendships. When COVID hit, we quit playing. We all had bigger fish to fry. But, after several months without hockey, we all realized the importance of our weekly get-togethers. But, how to play safely?




Masks weren't going to work. The exercise is far to rigorous to impede breathing with a mask. That led me to face shields and, ultimately, to TrueHero. Because they offer more coverage while also providing ample room, I figured we'd give them a try.




My biggest concern was whether or not the shield would stay in place with the stop and start running. So I donned a TrueHero and ran around the block. Amazingly, I couldn't get it to fall off, even if I tried.




So, with a box of TrueHero shields in my truck, enough for everyone who plays, we resumed our weekly games. The visibility is fantastic, they stay on without a problem and we all feel protected even when battling in front of the net. Sure, they're a little warm when you are running and the temps are in the mid-80s. And, during breaks in play, we will take them off. But, our TrueHero shields have allowed us to play our hockey again. And for that, we are more than grateful. Thanks, TrueHero!

Walt Larsen – playing pick-up ball hockey for decades
These are fantastic! I am a salon owner and am required to wear a mask. These work so great with my glasses and I don't feel claustrophobic! I have recommended them to an industry site as well as Facebook. Thanks so much! Great design and made in the USA ??

Laura Muai – Salon Owner
These masks are incredible! They cover your entire face including your N95 and head covering keeping us safe and helping to preserve PPE. An added bonus is they don't fog and can be wiped down in between patients. On behalf of the staff of Strong ED thank you Jamestown Plastics for this awesome gift helping to keep us and our patients safe!

David Bleck – RN in the ER at Strong Memorial Hospital in Rochester NY
The TrueHero Shields proved effective and useful during this crisis. They allow us to feel more confident when providing direct patient care for those in need. We are very thankful for the opportunity as well as for the generous donation of TrueHero to provide us this product.

Albert Arslan, MD – Department of Emergency Medicine – Lincoln Hospital – Bronx, NY
Received the TrueHero face shields today… so exciting! They are huge which I did not expect but it does give good coverage and so comfortable… and, most of all, can breathe.

Stay safe and mahalo

Joyce Mikami
I would like to thank those of you at Jamestown Plastics for your dedication to generate the TrueHero Shields as fast as you possibly can get them off the production line…to do your part to keeping the communities safe! Mahalo nui loa (Thank you)

Lorinda Waltz
Thank you Jamestown Plastics for donating face shields to the ICU at Metropolitan Hospital!!! There are no words to express our gratitude to you!!

Dina Belen
My department absolutely loves the face masks!! I have received non-stop feedback about how much better they are then the ones we originally had, everyone wants one and a lot of people are saying they actually feel protected in the TrueHero Shield. I'm still getting texts about where to get one so all in all everyone including myself loves the masks!

Dave Bleck
From all of us at The Chautauqua Center – thank you so much for the generous donation of the face shields to protect our frontline staff from COVID-19! We were overjoyed to receive these shields, especially due to the shortage of PPE that has occurred nationwide during this outbreak. We sincerely appreciate you thinking of us and helping to keep our staff safe. The shields are well made and very sturdy.

Sarah Gilbert – The Chautauqua Center
My county along with Chautauqua and Allegany Counties partnered with Jamestown Plastics to develop a face shield that would be reusable for first responders, health care, and such. Jamestown Plastics went beyond the call to assist. They worked 24hrs a day for a week to come up with a prototype for us to view. Once we received the prototype it was tested and approved by our medical directors and we placed our order. Initial production was estimated at 2000 per day and a few days later it went to 60,000 per day. Once our order was placed, we had the Face Shields in hand within 3 days. My County Cattaraugus ordered 6000 and my counterparts ordered 3000 ea. We cannot say enough about Jamestown Plastics' commitment to this project and their willingness to help the First Responder and Health worker community. This is a really great story that has come out of this COVID 19 Pandemic.

Cattaraugus County Office of Emergency Services – Director Christopher Baker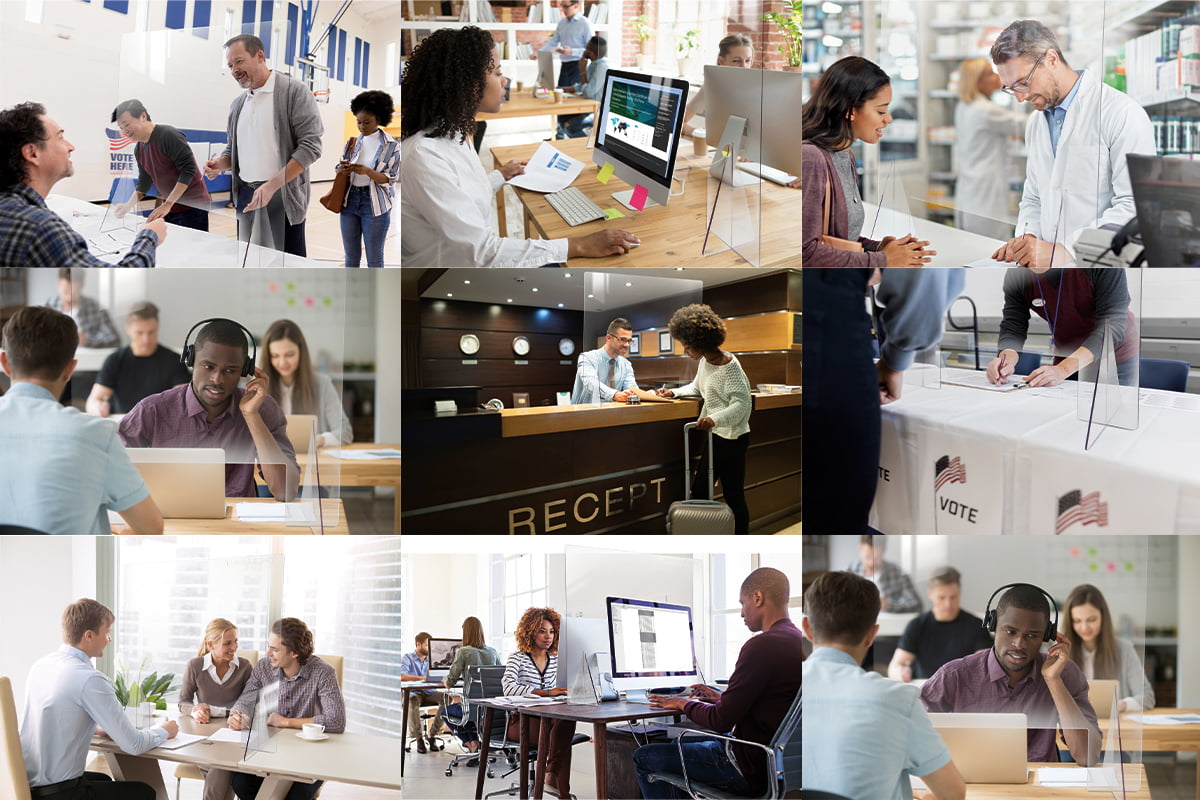 Also from TrueHero!
DIVIDE
&

CONQUER™ Table Shield

Table Shield can be used to keep people safe in a variety of settings from retail to office to hospitality to service and many more!

This 3/16" acrylic table shield is exceptionally easy to put together – the two feet slide into two slots in the shield itself – giving you a portable device that can protect people in any number of settings. It features an 18" x 7" transaction window along the base.

Available in three sizes

Buy DIVIDE

&

CONQUER™ Table Shield