100% made in the USA!
Available Now!
For frontliners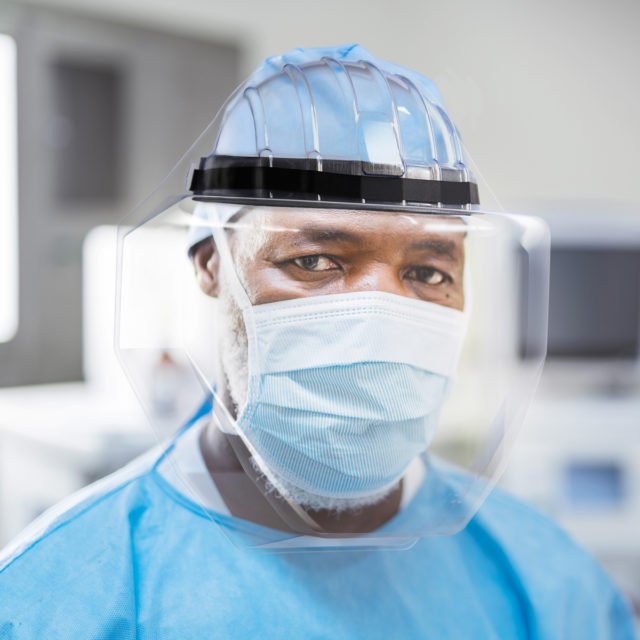 Clearon™ Medical Grade
Optically clear PETG construction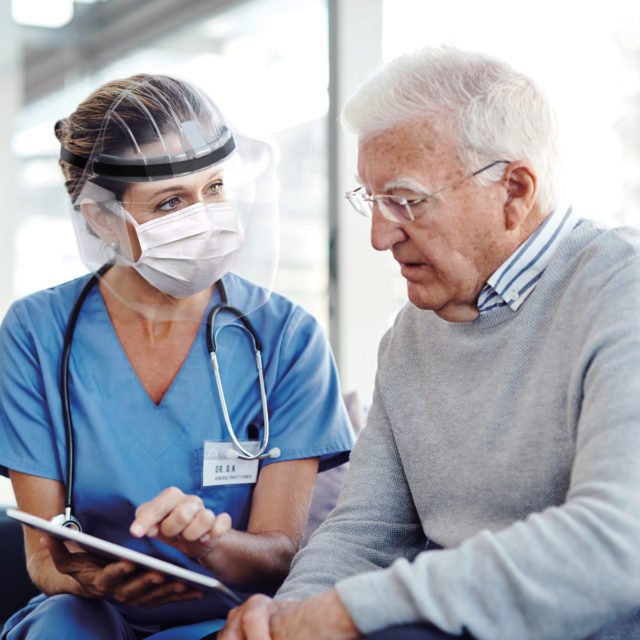 SurroundSight™
Full-range viewability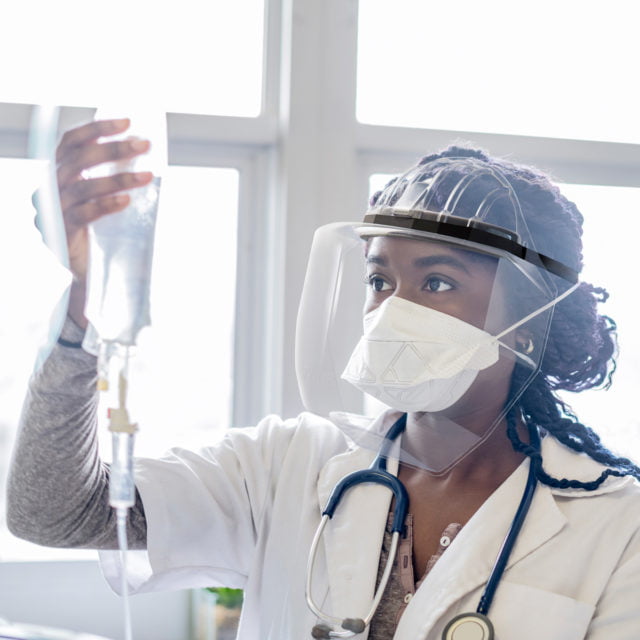 DoubleCover™
Flanged perimeter maximizes protection from periphery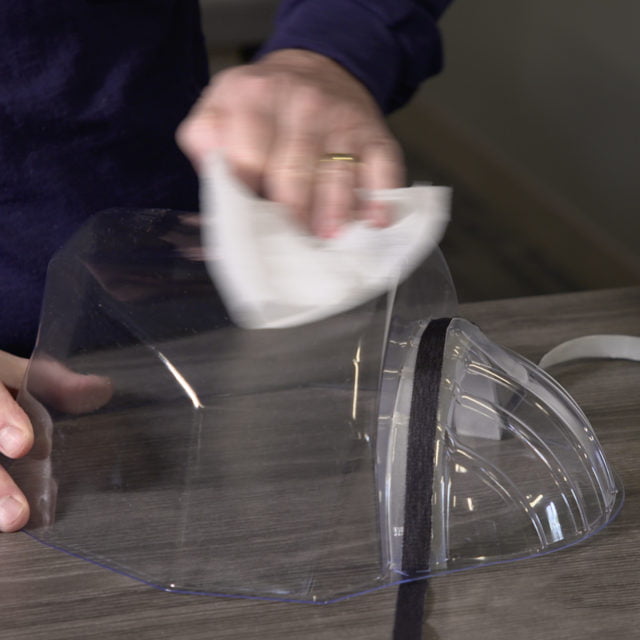 Reusable
Can be cleaned and reused
For anyone who needs protection
Multi-Port Exhaust
Channels release heat and moisture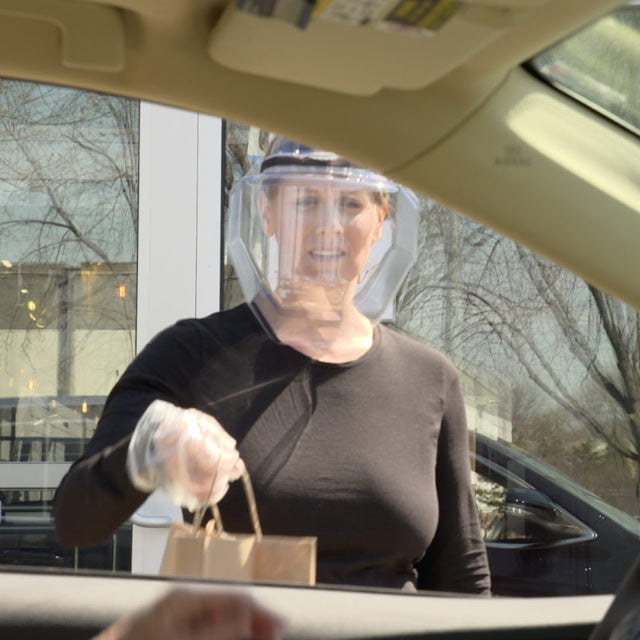 Comfortable
Extremely lightweight, ideal for all-day use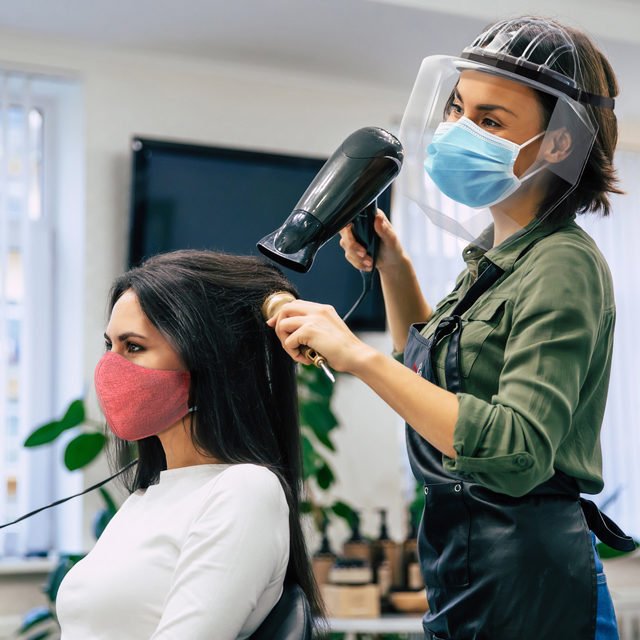 Customizable Fit
if you want to modify shield, simply trim with scissors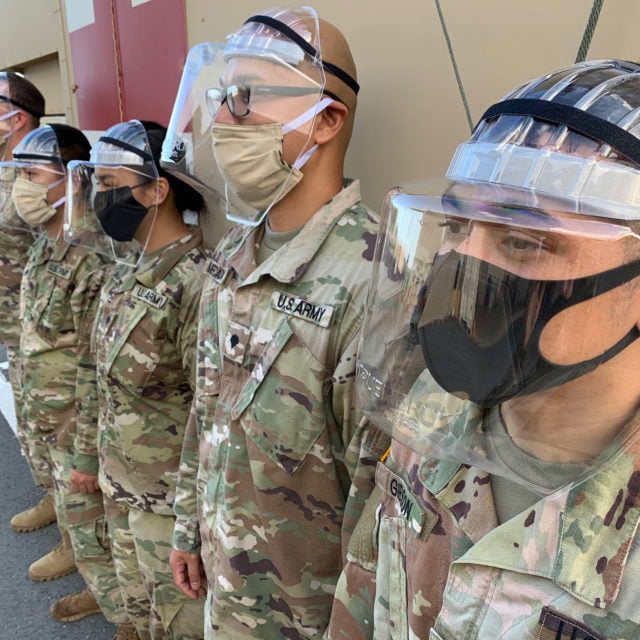 Adjustable
Hook-and-Loop strap allows for secure fit.
TrueHero Shields
Clearon™ optically clear FDA material
SurroundSight™ Full-range viewability
DoubleCover™ Flanged perimeter maximizes protection from periphery
Hook-and-Loop strap allows for secure fit, infinite adjustability; set it and forget it
Multi-Port Exhaust channels release heat and moisture and help to prevent fogging
Extremely Lightweight for comfortable, all-day use
Easy to Grasp from behind to satisfy handling protocol
Customizable Fit, if you want to modify shield, simply trim with scissors
TrueHero Shields Are Reusable
The TrueHero can be cleaned and disinfected to allow for multiple uses. When cleaning and/or disinfecting, clean the inside first and then clean the outside.
Dish detergent and a non-abrasive cloth or clean sponge can be used to clean the TrueHero. After cleaning, let the TrueHero air dry or use a non-abrasive wipe to dry.
To disinfect, the following can be used:
Alcohol-based germicidal or disinfectant wipes, then drying with a non-abrasive wipe.
Isopropyl Alcohol sprayed onto the shield, then drying with a non-abrasive wipe.
Please avoid using disinfectant aerosol spray, as this could leave a cloudy residue on the shield and impair view. Also avoid any cleaners with abrasive additives.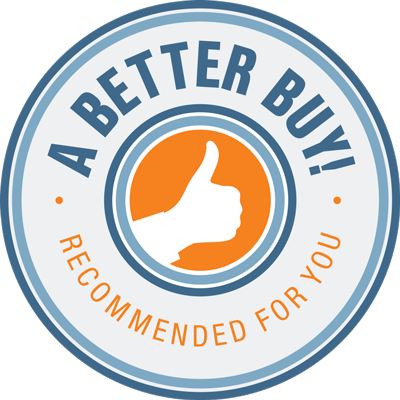 A Better Buy!
Compared to disposable shields and masks, TrueHero is a better buy! It's easy to clean and totally reusable!
TrueHero™ Extreme Coverage Face Shields were designed in conjunction with medical professionals, so all of the failings found by medical workers in existing straight, or at best, slightly curved medical face shields have been overcome. TrueHero™ is extraordinary protection for extraordinary people.
Our extremely lightweight, reusable face shield has a DoubleCover™ flanged perimeter for that extra bit of splash protection to keep the opening at the back of the face mask, hence the wearer, a bit more added protection against coronavirus, COVID 19, etc. And, the "Multi-Port Exhaust" face mask design allows heat and moisture to be drawn out from inside the TrueHero™ mask through channels designed to keep germs and microbes from entering due to the airflow it generates.
While it was specifically designed for the medical field for doctors, nurses and other front line professionals, TrueHero™ additionally serves well as a dental face shield, a food service worker face mask and a delicate components assembly full face mask.
TrueHero™ is the ideal personal protective equipment (PPE) choice and can be used with an N95 mask, a half face mask or a diy face mask. It is a reusable face shield that can be cleaned with any number of household or medical cleaners yet is inexpensive enough to be a disposable face shield, too.
TrueHero™ is the best full face shield on the market today, made in the U.S.A. and currently used to protect medical and dental workers from coronavirus or COVID-19 and biological fluid splashes, food service workers from exposure to airborne pathogens and many other areas in which non-high impact face protection is needed. It is "Extraordinary Protection for Extraordinary People."
NOTE: TrueHero™ is not certified by the FDA as a medical device.
Extreme Coverage Face Shield
What medical professional are saying about True Hero
These are fantastic! I am a salon owner and am required to wear a mask. These work so great with my glasses and I don't feel claustrophobic! I have recommended them to an industry site as well as Facebook. Thanks so much! Great design and made in the USA 🇺🇸

Laura Muai – Salon Owner
These masks are incredible! They cover your entire face including your N95 and head covering keeping us safe and helping to preserve PPE. An added bonus is they don't fog and can be wiped down in between patients. On behalf of the staff of Strong ED thank you Jamestown Plastics for this awesome gift helping to keep us and our patients safe!

David Bleck – RN in the ER at Strong Memorial Hospital in Rochester NY
The TrueHero Shields proved effective and useful during this crisis. They allow us to feel more confident when providing direct patient care for those in need. We are very thankful for the opportunity as well as for the generous donation of TrueHero to provide us this product.

Albert Arslan, MD – Department of Emergency Medicine – Lincoln Hospital – Bronx, NY
Received the TrueHero face shields today… so exciting! They are huge which I did not expect but it does give good coverage and so comfortable… and, most of all, can breathe.

Stay safe and mahalo

Joyce Mikami
I would like to thank those of you at Jamestown Plastics for your dedication to generate the TrueHero Shields as fast as you possibly can get them off the production line…to do your part to keeping the communities safe! Mahalo nui loa (Thank you)

Lorinda Waltz
Thank you Jamestown Plastics for donating face shields to the ICU at Metropolitan Hospital!!! There are no words to express our gratitude to you!!

Dina Belen
My department absolutely loves the face masks!! I have received non-stop feedback about how much better they are then the ones we originally had, everyone wants one and a lot of people are saying they actually feel protected in the TrueHero Shield. I'm still getting texts about where to get one so all in all everyone including myself loves the masks!

Davey
From all of us at The Chautauqua Center – thank you so much for the generous donation of the face shields to protect our frontline staff from COVID-19! We were overjoyed to receive these shields, especially due to the shortage of PPE that has occurred nationwide during this outbreak. We sincerely appreciate you thinking of us and helping to keep our staff safe. The shields are well made and very sturdy.

Sarah Gilbert – The Chautauqua Center
My county along with Chautauqua and Allegany Counties partnered with Jamestown Plastics to develop a face shield that would be reusable for first responders, health care, and such. Jamestown Plastics went beyond the call to assist. They worked 24hrs a day for a week to come up with a prototype for us to view. Once we received the prototype it was tested and approved by our medical directors and we placed our order. Initial production was estimated at 2000 per day and a few days later it went to 60,000 per day. Once our order was placed, we had the Face Shields in hand within 3 days. My County Cattaraugus ordered 6000 and my counterparts ordered 3000 ea. We cannot say enough about Jamestown Plastics' commitment to this project and their willingness to help the First Responder and Health worker community. This is a really great story that has come out of this COVID 19 Pandemic.

Cattaraugus County Office of Emergency Services – Director Christopher Baker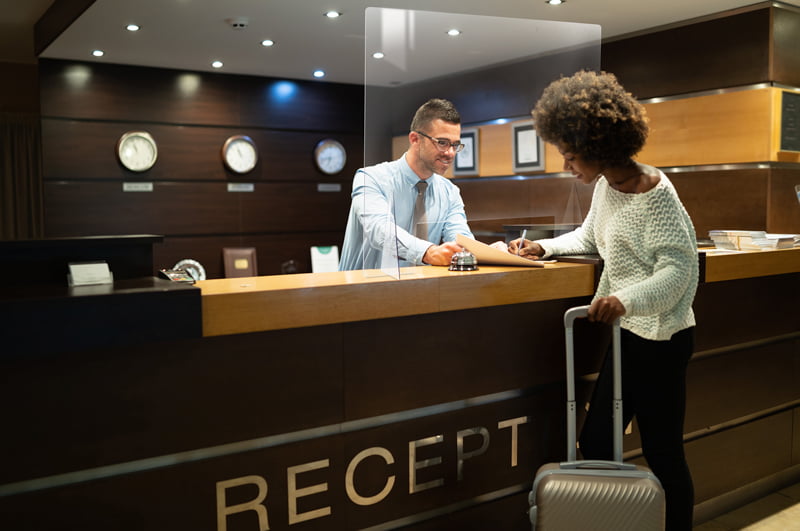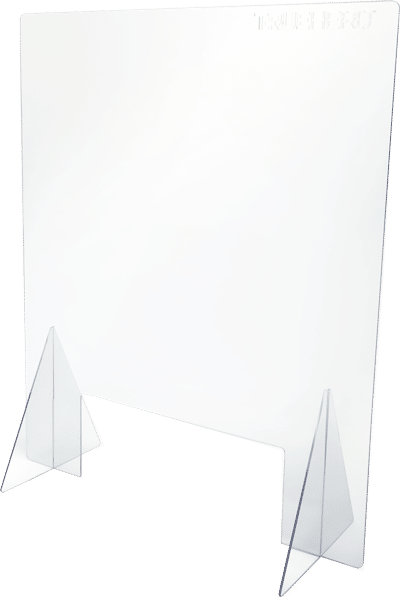 Also from TrueHero!
DIVIDE
&

CONQUER™ Table Shield

This 3/16" acrylic table shield is exceptionally easy to put together – the two feet slide into two slots in the shield itself – giving you a portable device that can protect people in any number of settings. It features an 18" x 7" transaction window along the base.

Available in three sizes

Buy DIVIDE

&

CONQUER™ Table Shield
The DIVIDE
&

CONQUER
Table Shield can be used to keep people safe in a variety of settings from retail to office to hospitality to service and many more!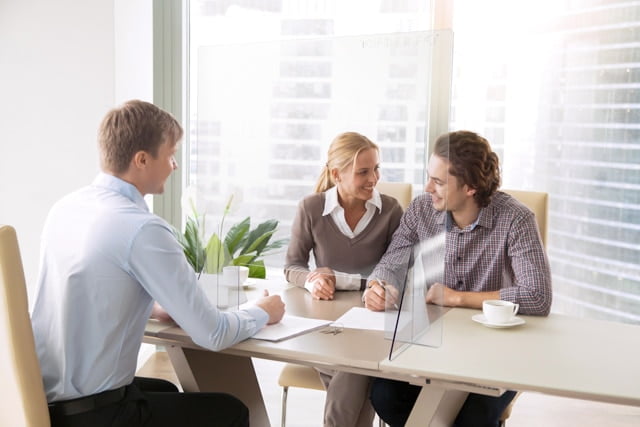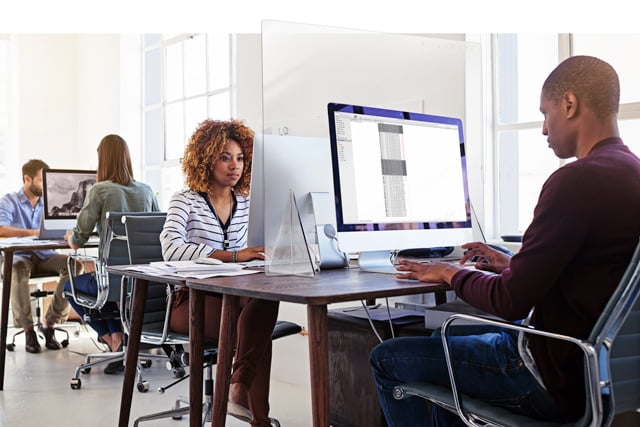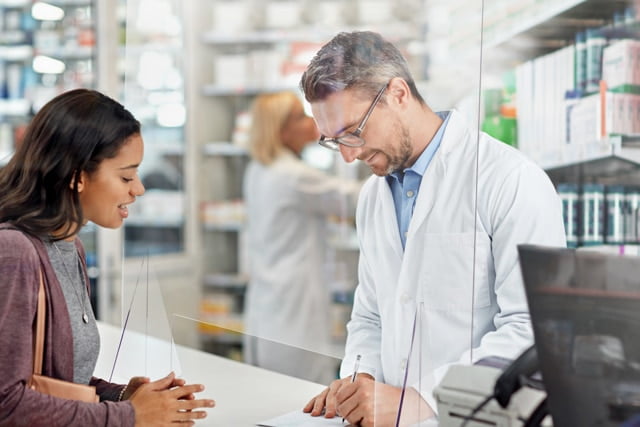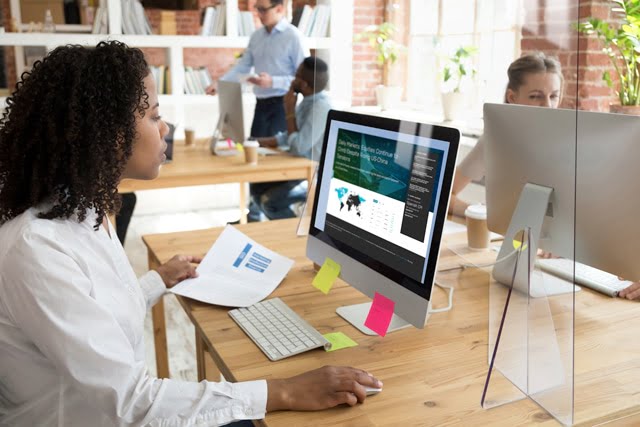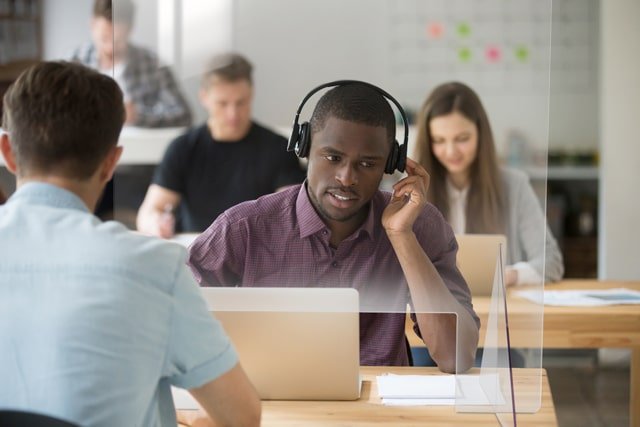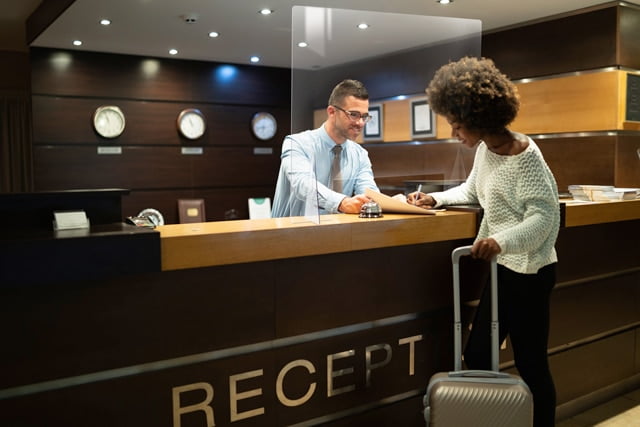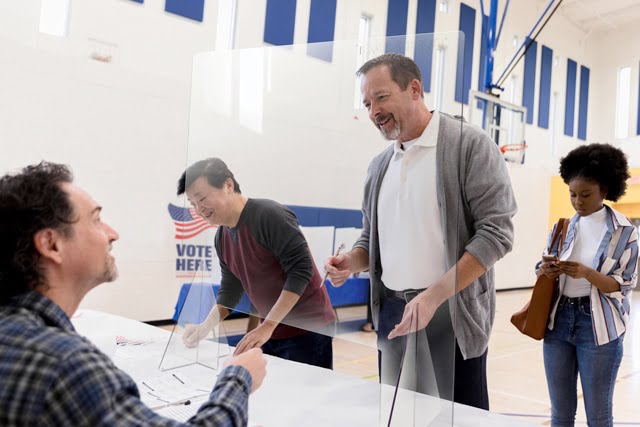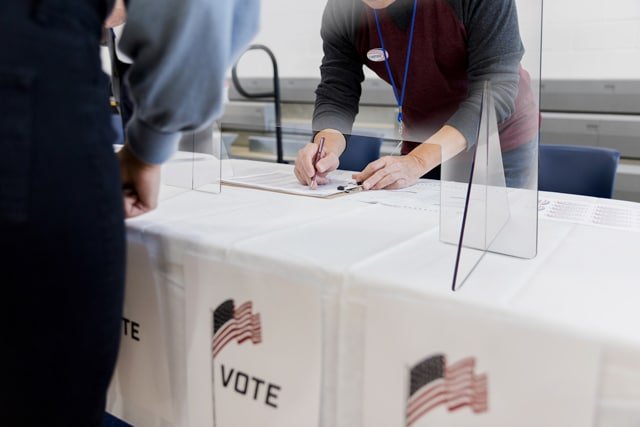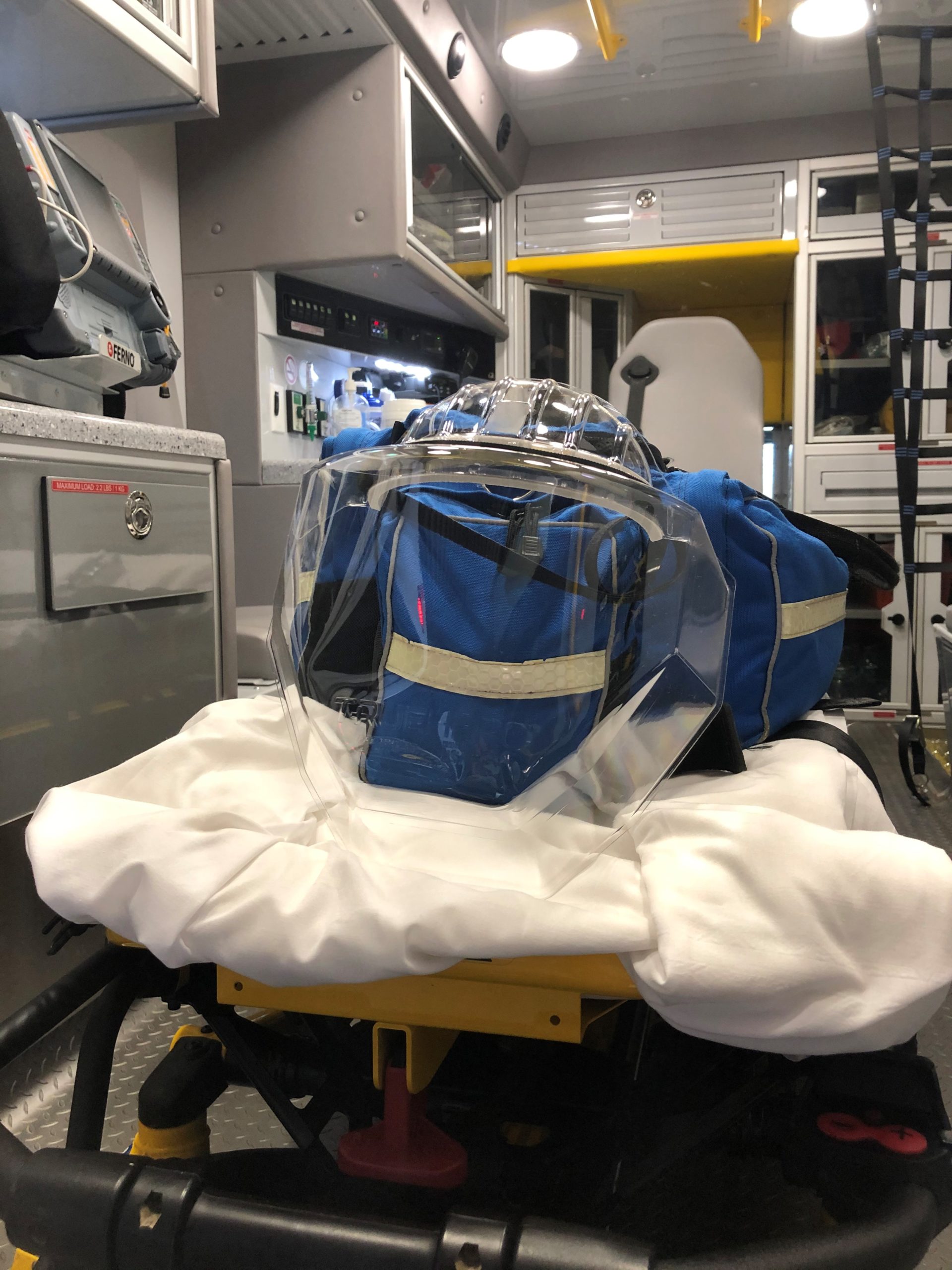 TrueHero Extreme
Coverage Face shield
Buy Now